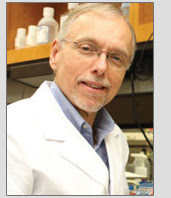 Exploring Novel Mechanisms of Alzheimer's Disease Pathogenesis
Robert Vassar, Ph.D.
Professor of Cell and Molecular Biology at the Feinberg School of Medicine, Northwestern University
Tuesday, Feb. 13, 1 p.m.
ASU Biodesign Institute
Auditorium, B105, 727 E. Tyler St., Tempe, AZ
Alzheimer's disease (AD) is the most common form of dementia in the elderly. There are currently more than 5 million AD patients in the United States, but this number is expected to grow dramatically as a result of the aging population. Currently, there are no therapies that treat the underlying biological mechanisms of AD. If such disease-modifying treatments are not found, the ensuing AD epidemic will threaten the social and economic welfare of the nation. Central to the development of Alzheimer's disease-modifying therapies is a deep and comprehensive understanding of the molecular and cellular mechanisms of AD pathogenesis. Robert Vassar will summarize several themes of his lab's ongoing research, including BACE1 as a therapeutic target for AD, the calcium hypothesis and dystrophic neurite formation, and explorations of the mechanisms of two recently discovered AD-associated genes, UNC5C and ACE1. AD is a complex multifactorial disease, and we must understand the entire AD pathogenic pathway in exquisite detail in order to identify appropriate points of therapeutic intervention and stage of disease to attack. Moreover, combination therapies that target disease pathogenesis at several points will have the highest likelihood of success.
This is part of the Biodesign Discovery Series. This event is free, open to the public and seating is on a first-come, first-served basis.
http://biodesign.asu.edu/news/discovery-series